As media investment continues to grow, China's unique media landscape and buying practices present substantial challenges for advertisers when it comes to quantifying media buying performance and ensuring transparency. These were the key topics discussed at this year's WFA Media Forum, held in Shanghai in March.
The forum brought together various multinational corporation marketers in China, covering functions from media to marketing.
D. Sriram, Managing Director, Ebiquity China gave a presentation that focussed on media transparency and what advertisers can do to help improve it.
Sriram opened his session by presenting recent WFA research that highlights transparency as the top priority for marketers (see chart below), and then going on to emphasise how China is the world's least transparent media market. With a population of 1.39 billion, five autonomous regions, 22 provinces, five municipal cities and 661 cities, it is clear why this market has difficulty tackling media transparency related issues.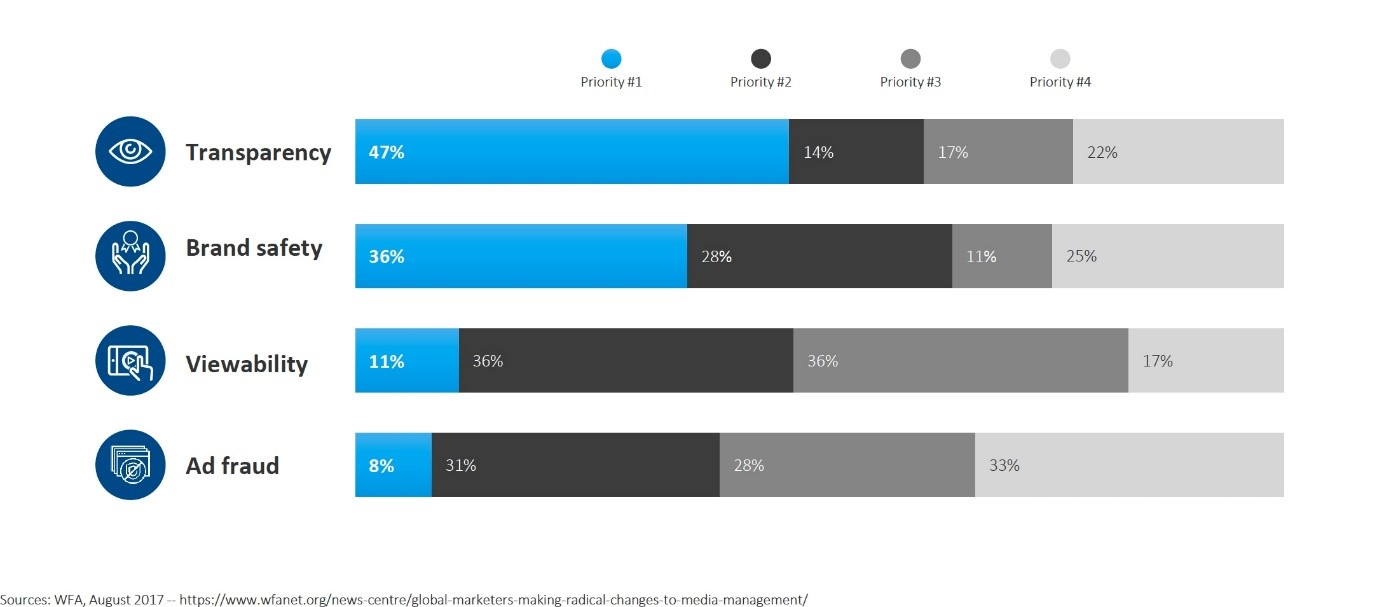 Did the advertising appear? Was the right price paid for it? Is it delivering what was promised? These are just some of the questions that Sriram suggests should be asked of agencies.
Sriram went on to outline four key challenges in media transparency for the Chinese market.
Low level of independent monitoring of media execution
With television covering around 300 channels, OOH and Cinema typically covering just 30 cities, digital being fragmented across 3 players and lastly radio being geographically diverse with no syndicated services, Sriram showed that syndicated monitoring in China is especially low. He went on to highlight that confirming execution in China can become especially challenging outside of TV.
Complex buying structure that allows agencies to earn non-client revenues (NCR) in multiple, opaque ways
The existence of different types of brokers between media agencies and media owners creates the opportunity to drive non-transparent deals that fall outside the ambit of a typical media audit. For instance, there is no visibility of the transactions between a broker and a media owner, which may become a way to channel rebate revenue indirectly back to the agency. Brokers can pass on this revenue to agencies as a consulting fee or pick up business costs on behalf of the agency (research costs, company travel costs and so forth). In theory, clients have access to direct rebate data, but indirect payments of the kind just described fall outside of this net and are not part of the rebate sharing discussion at all.
Digital's unique problems in the execution and monitoring area
Sriram presented the striking fact that typically 50% of programmatic ad spend gets lost in hand-off fees and rebates at various stages of the process (agency/trading desk, DSP, exchange or ad network) before it reaches the publisher. Even after the rest of the budget reaches the publisher a large proportion of the output can be fraud clicks and impressions, and of the proportion that reaches a real consumer they may not all be in the target demographics and geographies.
The concern here is that despite its opacity as a medium and the e-commerce dominance in terms of total retail sales in China, digital ad spend is still growing year on year.
Walled gardens in digital make attribution challenging
Alibaba and Tencent dominate the consumer market in China with access to deep consumer data, for example, device IDs, social media IDs, payment and transaction information, location data and behavioural data. The challenge here is that very little information reaches brand owners.
So how can these issues be tackled to achieve transparency? There are two broad solutions; increased and better controls and the need to evaluate ROI / have the bigger picture in focus. Sriram recommends five actions that advertisers can take to ensure better transparency:
Set up a strong internal governance
Own and manage your data
Shape contracts to clearly define the nature of your relationship and level of transparency
Ensure audit rights
Define a code of conduct to support the day to day relationship of the contract.
If you would like to request more information on transparency in China, and ways to help combat these issues, please get in contact with us here.