Google Analytics 360 + Salesforce: What it Means for Marketers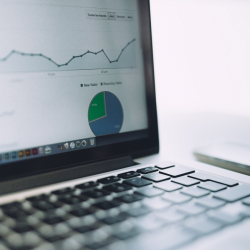 One of the most common obstacles faced by marketers is trying to create a complete view of a customer's journey both online and offline. Technology has advanced immensely in recent years, but marketers still face the challenge of disparate systems that don't communicate with one another. In an effort to help marketers overcome this challenge, Google and Salesforce announced their planned integration between Google Analytics 360 (GA360), Salesforce Sales Cloud, and Salesforce Marketing Cloud.
Last year, a series of declarations were made about the integration that promises the ability to see a more complete view of a lead's path to conversion. Here's a quick rundown of what has been promised so far:1
Phase 1 | Google Analytics + Salesforce Sales Cloud
Sales data from Sales Cloud will be available in Analytics 360 for use in attribution, bid optimization and audience creation

Data from Analytics 360 will be visible in the Marketing Cloud reporting UI for a more complete understanding of campaign performance

Audiences created in Analytics 360 will be available in Marketing Cloud for activation via direct marketing channels, including email and SMS

Customer interactions from Marketing Cloud will be available in Analytics 360 for use in creating audience lists
Phase 2 | Google Analytics + Salesforce Sales Cloud + Salesforce Marketing Cloud
Product-specific data will make it possible to run remarketing campaigns that present cross-sell or up-sell offers to customers based on products previously ordered

Data predicting the likelihood of lead conversion will let marketers create audience lists of prospects who have a high likelihood of purchasing, which can be used for remarketing (to move people along the sales funnel) or prospecting

L

ifetime value data can be used as a diagnostic tool to provide insight into which marketing channel brings in the highest value customers
The integration starts with Phase 1 of GA360 and Salesforce Sales Cloud, followed by a second phase that integrates Salesforce Marketing Cloud. The ability to finally be able to seamlessly connect sales, marketing, and advertising data surely piqued interest of marketers far & wide. Or, as Kyle Harrison, Group Project Manager for Google Analytics, put it:
We often hear from marketers how difficult it is to connect online and offline customer interactions in order to see a complete view of a customer's journey—and they also tell us how helpful it would be if they could do it successfully.2
For example, one way that marketing teams can gain increased insights of how their marketing spend is performing is by combining traffic source data from Google Analytics 360 with Opportunity data provided via Salesforce. This integration would give marketers unprecedented insight into how leads are performing across channels and help show areas where marketing efforts are excelling or falling short.

Image Source: Google
As an added feature, marketers can leverage the built-in connection between Analytics 360 and BigQuery to move Sales Cloud data into the Google Cloud, allowing it to join together with other databases and allowing BigQuery's powerful toolset to help illuminate additional insights.
All of this comes together to help marketers gain a more complete and actionable view of their Customer's Journey, in turn leading to a superior customer experience for their users. As a final example to help display the powerful potential of this integration, consider the following scenario:
Marketers can use the tools in AdWords and DoubleClick Search to optimize their bidding on search ads based on the goal of actual sales (offline conversions tracked in Salesforce) rather than just basic website leads. Or they can create an audience list in Analytics 360 of qualified leads from Sales Cloud and use AdWords or DoubleClick Bid Manager so their display ads reach people with similar characteristics.2
Next Steps
The integration can certainly be a win for marketers, but as with any turnkey solution, there can be challenges. Preparation needs to be done to ensure the integration does not produce inaccurate results or worse, feed skewed data into either program that can cause major headaches to try to reverse. Assisting leading brands on their GA360 programs, our certified Google Analytics consulting team produced a Phase 1 Integration Guide and Checklist to help marketers avoid these issues, such as cleaning up bad historical data, fixing improper collection standards, and other factors that may inhibit the turnkey solution. Download the free guide to receive the printable checklist.
To help ensure proper set-up of the integration or for any other questions, reach out to our expert certified Google Analytics team, info.us@ebiquity.com.
Sources:
1. https://analytics.googleblog.com/2017/11/google-analytics-360-salesforce.html
2. https://analytics.googleblog.com/2018/01/integration-salesforce-sales-cloud.html
3. https://support.google.com/analytics/answer/7584445
4. https://www.google.com/cloud/salesforce/
5. https://www.salesforce.com/blog/2017/11/salesforce-google-form-strategic-partnership.html
6. https://www.salesforce.com/campaign/google/