Improving Media Transparency as New Technologies Are Adopted
Over the last few years, transparency and trust have taken center-stage in c-level meetings, industry events, and boardrooms across the globe. Significant progress has been made by leading brands since the
ANA Media Transparency Initiative
was initially released, but there is still progress to be made. As we look forward to the upcoming ANA Financial Management conference, we took a reflective look back at the topics over the years. At last year's conference in particular, the
lack of transparency in Programmatic Advertising
was discussed as well as the roadmap forward for advertisers and marketers to improve both their results and confidence in programmatic.
With the emergence of new technologies such as programmatic, Artificial Intelligence, and blockchain applications, the world of digital advertising has never been more exciting for marketers and advertisers. On the other hand, it has also become increasingly complex. These technologies bring promises of increased efficiency and improved results; however, these advancements also bring with them the challenges of transparency, effectiveness, privacy, and trust. We've explored the importance of having a solid partnership between digital advertising and transparency in the past but now more than ever, establishing a transparent view of your advertising spend is critical to ensuring your media effectiveness is not jeopardized and the right level of control is achieved.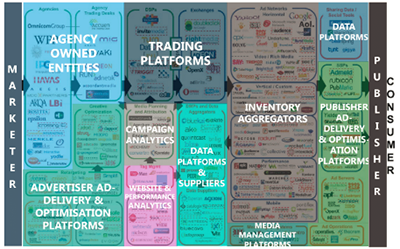 Learning from the Past
Historically, a lack of transparency has not always been caused directly by new technology. As the digital advertising world has continued to evolve with increasing complexity, advertisers' view of their investments has, at times, become foggy. Some of the problems that have plagued marketers and advertisers in the past include:
Entering into a contract with an agency that has limited their visibility into trading

Agencies negotiating the use of non-transparent trading desk solutions that has left advertisers unsure of how their investment has been spent

Advertisers failing to use ad-verification tools to ensure that the quality of inventory has been assessed and that brand safety measures have been applied

Advertisers unknowingly relinquishing their control and the level of transparency they receive due to a lack of subject matter knowledge or understanding of the digital space
While these issues have been seen before, especially with programmatic advertising, they are problems that can be fixed for both current and future technologies in the marketplace going forward.
Best Practices for Advertisers
We spoke with our colleagues at FirmDecisions, an Ebiquity company and the largest independent global marketing contract compliance specialist, about how advertisers can make the most of their marketing and media investments. Their expertise in this area has allowed them to develop some best practices for procurement professionals to ensure that their media agency contracts are delivering the desired results in the digital age.
Whenever possible, advertisers should negotiate a fully transparent model for trading, so as all costs incurred are visible to the advertiser and there is no bundling of pricing (and therefore opacity) for resourcing, media, data and technology

Advertisers should mandate the use of Brand Safety tactics (whitelists, blacklists and content association measures) as well as the implementation of Ad-Verification tools to measure viewability, ad-fraud, and, whenever possible, prevent the delivery of ads to non-humans

Ensure that Master Service Agreements or contracts include these key terms and confirm that they are being followed at an operational level

This means that local markets need to know about these requirements and be empowered to direct the local agencies to implement the tools as necessary

Verify the agency's compliance with the contract through an audit to verify the improved levels of transparency into the management of their media investment
Conclusion
When looking to the future, it's important to learn from the past. By doing so, procurement professionals can make the correct procurement decisions against current and future technologies. Now is the time to ensure your advertising and marketing effectiveness by rising to the challenge of making effective procurement decisions to ensure real growth through strategic investments. For more, read the FirmDecisions article on "How to Make Media Agency Contracts Deliver in the Digital Age."
Learn more, visit us at the upcoming ANA Financial Management Conference, or reach out to us at info.US@Ebiquity.com.