Welcome to the Wheelhouse, a series of blogs from Ebiquity's Marketing Effectiveness team.
In this fifth edition of The Wheelhouse Head of International Effectiveness, Mike Campbell, considers how challenging it can be for marketers to make the business case for marketing investment. And at the same time how transformational it can be when it's done right.
In August, the World Federation of Advertisers (WFA) released an excellent paper titled Creating a Global Culture of Marketing Effectiveness. Ebiquity collaborated on the project which led to this paper as the WFA's Strategic Partner for Marketing Effectiveness. The project was run together with the Institute for Practitioners in Advertising (IPA). 
Common challenges
Ongoing research among WFA members – the world's biggest and most progressive brands – repeatedly reveals that marketing effectiveness is the number one challenge they face. The survey behind our new report addressed advertisers' company culture for marketing effectiveness, teamwork, and expertise.
There were several dominant themes that emerged from the research. There was a clear disconnect across respondents to the survey, because, although many are close to the data and analytics that matter, many simply do not have the right marketing effectiveness frameworks in place. This is a key point: while most marketers score themselves well with respect to their companies' marketing effectiveness efforts, expert colleagues nevertheless believe that there are significant gaps in both understanding and capability.
The best frameworks reflect an understanding of how brands grow in the long term and at the same time have a balanced understanding – not to mention supporting metrics and ROIs – of how brand value is generated in the short, medium, and long term. What was clear in this most recent poll is that for most of the respondents, the insights and analytics teams too often sit outside the decision-making rhythm of the most senior marketing team members and the boards of their companies. It is obvious that insights and marketing leadership need to better align and collaborate, while ties with CFOs and boards need to improve so that marketing effectiveness is better understood and, therefore, acted upon.
Short, medium, and long-term thinking
There have been many column inches filled in the marketing press over the last 10-15 years, recording the increased focus in marketing on 'short termism'. This has resulted in an overall decline in marketing efficiency and ROI in recent years, as detailed in IPA Effectiveness Awards submissions and captured so memorably in the IPA's publication The Long and the Short of It.
Ebiquity's Marketing Effectiveness practice has often observed this trend among our own clients, particularly when we begin a new relationship. While there are many reasons for it, a key factor is the increase in digital 'performance' media and the use of digital attribution techniques that have served to inflate the reported ROI from those media lines.
In comparison, econometric modelling techniques in the industry have correctly scaled digital media ROIs alongside more traditional brand marketing campaigns and channels. These analyses have shown in many case studies that higher-reach brand campaigns and media channels are more efficient overall when longer-term sales effects are considered and factored into models.
The way forward
The Ebiquity-WFA-IPA paper – Creating a Global Culture of Marketing Effectiveness – concluded that there are four principal approaches advertisers should take to enhance marketing effectiveness:
To have the right data, tools and measurement in place to generate the right data-informed decisions.
To have the right buy-in at the top and across senior levels in companies, with the right roles, responsibilities, and training in marketing effectiveness capabilities.
To develop a clear vision for marketing effectiveness and to create both a roadmap and organisational alignment within the business.
To institute the right decision-making process for the activation of marketing investment and measurement and in this way to enhance business results.
Summing up
The report concludes that, while marketing effectiveness capabilities have greatly improved from where they were, marketers are nevertheless still too focused on activating media plans and need to go back to figuring out the 'why' and proving the results. This is summarised in this key chart from the paper, shown below.
You can download your copy of our report – Creating a Global Culture of Marketing Effectiveness – here.
Figure 1. How marketers rate their own organisations across five key dimensions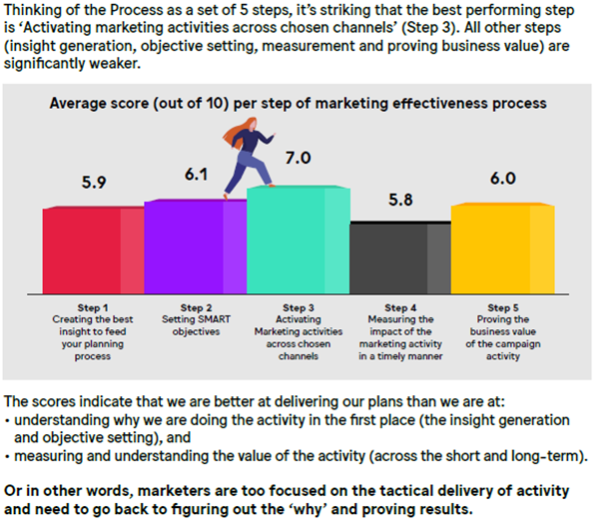 ---
Feel free to get in touch with the Ebiquity team to further discuss these important updates and take proactive steps to reduce wasteful practices. Reach out now.