Ebiquity forecasts there will be 27% less media account pitches and agency reviews in China in 2022 compared with 2021 due to COVID
Ebiquity finds there were only 122 account moves/pitches monitored in 2022, according to the COMvergence New Business Barometer. Ebiquity explains when half of the 2022 were under quarantine mode, advertisers have delayed the agency reviews and media account pitches to 2023.
Ebiquity also finds the business retention levels were also higher in 2022 at 25%, compared to 16% in 2021 and 15% in 2020 respectively. Ebiquity says the retention rate is better by two-third, probably because a lot of agency reviews and media account pitches were conducted remotely during the lockdown/work from home period, it is more favourable to those incumbent agencies (However, China retention rate is still significantly behind global average of 35%).
In 2022, COMvergence Barometer shows the total media spend reviewed in pitches decreased by 4% from RMB26,295 Mil to RMB25,228 (2021 total account move and pitch spend exceeded 10% vs 2020).

PepsiCo is the biggest account move in 2022
The largest account moves of 2022 was PepsiCo, with reported billings of RMB2,009 Mil and changed from Mindshare to Zenith in Q1. Yili TV buy was the second largest account move from Mindshare to OMD in Q4 and had reported billings of RMB1,486 Mil. The third biggest move is Vitasoy, with reported billings of RMB 412 Mil. Vitasoy was moved from Carat to PHD. The other big account moves were SAIC Roewe, Swarovski, Sunning Kuailegou, Huawei Auto, Burberry, Changan Ford and Florasis Hua Xizi Offline Planning and Buying assignment.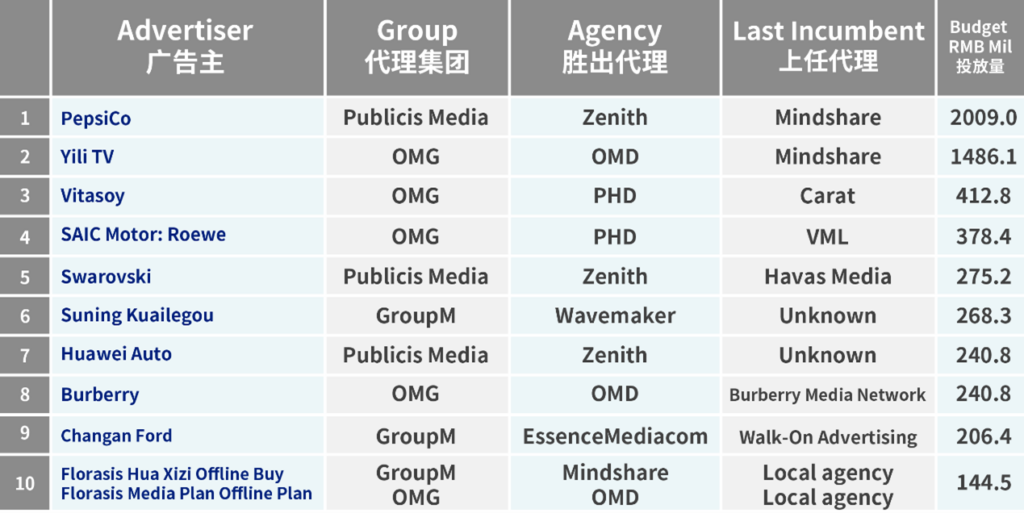 Ebiquity Media Consulting forecasts more media account pitches in 2023
Ebiquity Media Consulting China managing director, Stewart Li, "we foresee there will be more account moves and agency pitches in 2023, as more clients are requiring their agencies to make significant improvements in cost efficiency and quality during the economic downturn."
After China returned to normal, Stewart said more marketing and procurement clients are considering reviews to make the agencies work harder. Last year Ebiquity China forecasted rate hike will be 3.5% on average for 2023, Stewart said several major clients are in fact expecting lower inflation rates in actual.
Stewart added that some clients are reviewing their incumbent agencies for their data and tech capabilities, because of the rapid growth of biddable media and increased support needed in eCommerce. "We have managed half of the top 10 pitches in 2022. All advertisers have put higher emphasis on agencies' data and tech capabilities. Agencies were asked to demonstrate their data and tech products/dashboards live. And the scoring percentage have almost increased by 50%," Stewart said.
When considering a review, Stewart suggests advertisers first ask themselves if they are sure they want or need to change their media agency. "The first step is designed to ensure you are pitching for the right reasons and not taking a commoditised approach towards media and media agency partnerships. It is critical that advertisers allow enough time and resources to conduct the process effectively" Stewart said.
At the holding group level, Publicis Media was no 1 in new business value with 7 account wins in 2022, followed by GroupM and OMG was the third
Publicis Media secured the No. 1 position in new business value among the international big six agency holding groups in China, according to the Barometer (GroupM held this position in 2021). Publicis Media won 7 accounts which the top 3 were PepsiCo, Swarovski, and Huawei Auto. They successfully retained 6 businesses; the biggest were Mondelez, AB InBev and Danone.
In terms of net billing gain which considers the difference between wins and losses, Publicis Media secured RMB2,064 Mil net billing gain. Publicis Media also ranked no. 1 in 2020 when they won L'Oréal Group from Mindshare.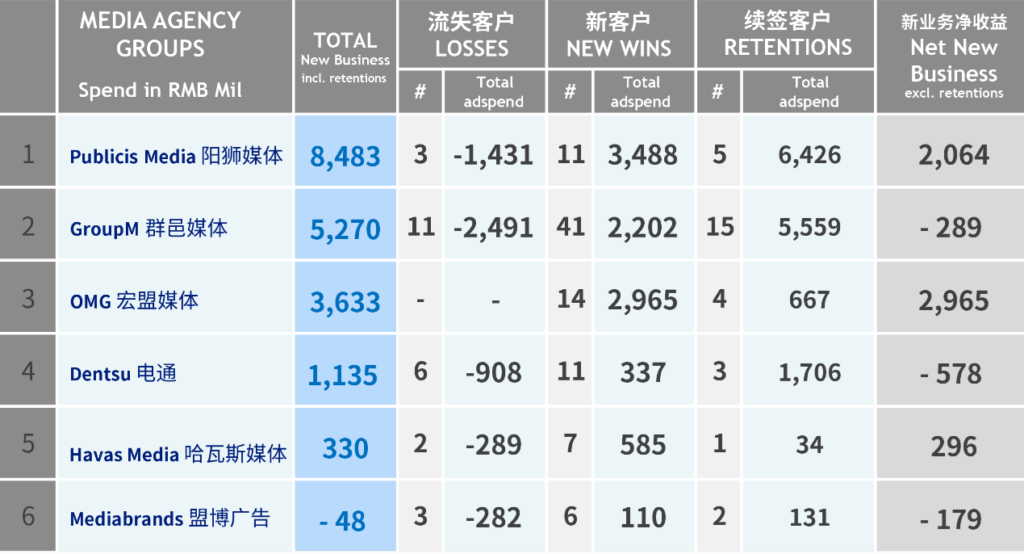 GroupM comes to second in new business value with 30 small wins, top 3 are Suning Kuailegou, Abbott Nutrition and Changan Ford. They successfully defended 16 reviews; the biggest 3 were Master Kong Beverages, Dyson, and Nike. In terms of net billing gain, GroupM experienced a loss of RMB289Mil as a result of losing some significant clients such as PepsiCo and Yili TV buy.
OMG ranks no. 3 in new business value with 14 wins, top 3 wins are Yili TV Buy, Vitasoy and SAIC Roewe. OMG successfully defended Yili digital buy, SC Johnson and Beiersdorf. OMG performed the best in net billing gain at RMB2,965 Mil.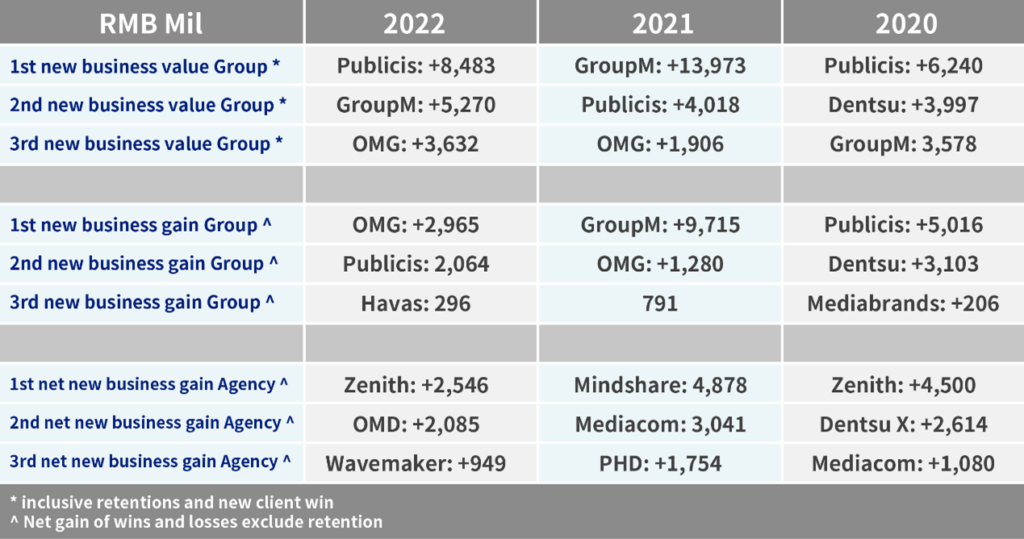 Zenith performs the best in new business net gain with RMB2,546 Mil
Among the 14 international agency brands, Zenith led net billing gain at RMB2,546 Mil in 2022 with 4 wins (Top 3 are PepsiCo, Swarovski, Huawei Auto) and 1 loss. Zenith successfully retained 5 reviews such as Singaporean Tourism Board and Huawei Matebook.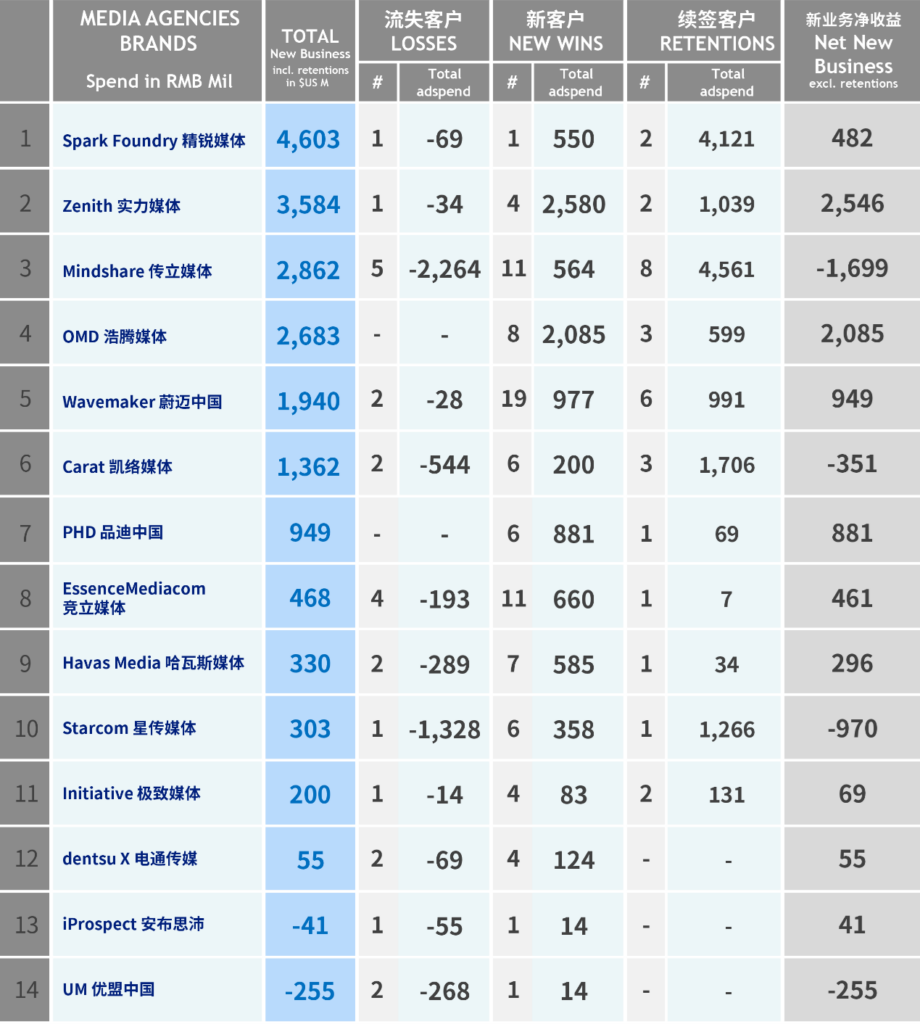 OMD achieved second place in net new business gain at RMB2,085Mil and won 8 clients in 2022 (key wins are Yili TV Buy, Burberry and Florasis Media Plan) and no loss. Wavemaker came third places with 19 wins reported to COMvergence. Key wins were Suning Kuailegou, LeapMotor and Under Armour. 2022 net billing gain was RMB949 Mil.
If you have any enquiries, please contact Stewart.li@ebiquity.com or Carol.lu@ebiquity.com
This content was originally posted on CampaignAsia.com.