Ebiquity and the WFA joined forces to generate a flash survey generating media insights into 2023 budgeting cycles and the expected impact of the recessionary market conditions.
The survey highlighted that Advanced TV/CTV is set to be the number one growth channel, with 67% of advertisers expecting to increase spending in this area. In addition, spark Ninety's recent research on CTV advertising in the UK found that Netflix and Disney+ ad-supported tiers would increase premium CTV ad volumes by 28%, so no surprise that advertisers are thinking this way.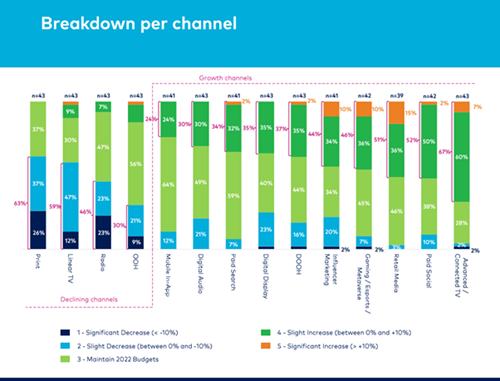 This comes in a week where Netflix had several announcements. On Tuesday, Netflix released its Q3 results, reporting the addition of 2.41 million net global subscribers, which is more than double the projections recently shared with the market and the first growth since Q4 2021. Most of the subscriber growth came from APAC, which increased by 1.43m, whereas EMEA drove 570,000 new subscribers, and the US and Canada added 100,000.
Nielsen recently reported Netflix gained an 8% share driven by viewers watching 18 billion minutes of Stranger Things in the US alone.
With only a couple weeks until the launch of its ad-supported tier, Netflix announced to the market a number of partnerships which is likely to be a strategic play for the steaming giant following pressure from the market of its very 'closed' and pricey trading mechanic initially disclosed. Partnering with BARB, Nielsen, IAS, and Double Verify will undoubtedly help the business attract support from advertisers.
Having initially stated that there will be no third-party measurement on the Platform, the partnership with Double Verify and IAS will give advertisers the confidence to add Netflix to media plans, as it brings a greater level of transparency in viewability verification and fraud protection.
From the 1st of November, UK-based BARB will publicly report Netflix viewing every day at both service and programme levels, the same way it reports viewing linear TV channels. With Disney+ already a BARB partner, this move by Netflix means a greater comparison across linear and streaming.
At some point in 2023, Netflix, who is now partnering with Nielsen, and its digital audience measurement to give advertisers an understanding of its reach and therefore have ratings for its content.
What can advertisers expect? Buyers will be able to target by country, content genre, and within the top 10 most popular shows – although, due to licensing restrictions, many TV shows and movies will become unavailable. Considering user experience, ad load will be capped at five minutes per hour at a frequency of 1 per hour. Trading will be at a fixed price of circa $65 primarily, which makes Netflix most expensive vs. its competitors. There is some uncertainty regarding ad length, with several conflicting reports suggesting 15 or 30 seconds/30 or 60 seconds.
All in all, a significant shift from Netflix with these announcements. What stands to be seen is the adoption of such a high CPM in comparison to competitors. Will advertisers accept such an environment warrants a premium, or will we see another change from Netflix? No doubt the call out for higher engagement on their platform vs. competitors is to help justify the premium:
In the UK, Netflix accounts for 8.2% of video viewing, 2.3x Amazon and 2.7x Disney+
In the US, Netflix accounts for 7.6% of TV time, 2.6x Amazon and 1.4x Disney + Hulu + Hulu Live
Ultimately the true value will be established via econometric findings, and advertisers should be leaning into all forms of independent measurement in this space.