Lisbon. Home port of Christopher Columbus, whose fortuitous discovery of North America set world history on a whole new course. Home since 1958 to towering and modernist the Monument of the Discoveries, celebrating the spirit of Columbus and his adventurous peers and collaborators. And home last week to the World Federation of Advertisers' (WFA) annual gathering of the glitterati of marketing, Global Marketer Week, charting the way forward for commercial communication around the world.
---
Padrão dos Descobrimentos, Lisbon – "Monument of the Discoveries"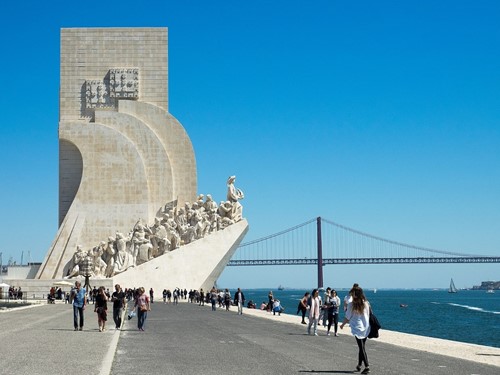 Source: Belem-3 by Ajay Suresh is licensed under CC BY 2.0.
---
Half a dozen members of the global Ebiquity team attended the event. Debbie Morrison, Ebiquity's Managing Director, Global Partnership & Events, presented one of our proposals on how to activate the WFA Global Media Charter to the Global Media Forum, and our leadership team had the pleasure of hosting a dinner for a Who's Who from the very top drawer of global marketing.
As with many global events – particularly those hosted by our long-term partners, the WFA – there were great dinners, excellent entertainments, and first-class opportunities for networking. The conference agenda and content, debates and discussions provided more to think about from more, different perspectives than it's possible to reconcile. The overriding impression that I took home from Lisbon is that Global Marketer Week is very definitely not short on ambition.
From conversations with our clients to the themes explored in many of the sessions, it's clear that the big challenges that have confronted advertising over the past few years aren't going anywhere fast, or getting solved quickly. Marketers are still looking for solutions to viewability, brand safety, transparency, ad verification, and marketing effectiveness. And when it comes to brands and marketing more broadly, purpose, diversity, and people-centric marketing remain big themes. All received significant airtime – on stage and off – throughout the week in Lisbon.
What I found to be markedly different this time, however, was how the debate – that in recent times has sometimes felt a bit parochial and often intensely technical – is now elevated to a truly industry-wide and even a societal level. It was as if everyone at the conference agreed that we've reached a tipping point in the industry, one where the very future of advertising itself is at stake.
I'm not talking about the threat of Netflix, ad blockers, and other ad-free models, although many delegates were talking about them too. I'm talking more about the much bigger and broader existential threat to the entire advertising ecosystem – plus some of the basic principles that power it today and that are among the key tools that marketers use to build brands. There are now even bigger questions that the advertising industry needs to contend with if advertising as we know it is to survive; if brands, more importantly, are to thrive.
More specifically, there are four examples from WFA Marketer Week that really stood out to me.
First: the very credibility of advertising as a phenomenon was on display during a set-piece debate on whether advertising is to blame for the ills of the entire online ecosystem. On stage, debate raged as to the role advertising has played in creating some of the internet's darkest problems. GSK's Jerry Daykin's write-up of this debate is well worth reading – see here.
Whether advertising is "the" problem or "a" problem is a bit like asking if chickens and eggs should feature in questions beginning "Which came first …?" The reality is that 2018, in particular, exposed some real problems with the internet model we have today, not just for business, but for society as a whole. The WFA estimates that the holy trinity of ad misplacement, ad fraud, and viewability will have cost businesses $50bn in total by 2025. $50bn. That's about 9% of the total estimated global ad market for 2019. Or about the total amount that will be spent on print advertising around the world this year.
And when it comes to society, there is increasing evidence that truly pivotal elections the world over are being won and lost thanks, in part, to the murky advertising ecosystem and unregulated digital platforms. If there was ever a time when we're standing on the precipice of an industry that's about to change in a massive way, it's now. Buckle up for the ride!
Second: the broader topic of the role and enduring function of brand building. Keith Weed kick-started a debate on the decline of consumer trust. Many on stage continued to argue the case that brands must have purpose – a position that has recently started to lose favour and lustre, most notably from marketing professor and columnist, Mark Ritson. This position notwithstanding, almost everyone in Lisbon last week seemed to agree that advertisers must put "people" at the centre of all marketing, pivoting away from talking about (and at) just "consumers". Brands must make sure they reflect real people, with real needs, in all their commercial communication.
In the ad world, some on stage presented a new world where content, first party data, and programmatic media are the new triumvirate. Putting people at the centre of these would be a great step forward too. But let's not forget the important roles that creativity, research and insights can play in driving more human-oriented advertising.
Third: the WFA said that marketers now have a moral responsibility to hold the tech giants to account – most notably the Alphabet-Facebook duopoly. Questioning efficiency and effectiveness is just table stakes. Doing the right thing because it's the right thing to do – and not just paying lipservice to ad fraud and ad misplacement – should be marketers' mantra and opening demand.
Fourth: Unilever unveiled its Trusted Publishers initiative which is designed to build a network of approved online publishers and platforms – globally, regionally, and locally. It's designed so that the FMCG giant can secure greater control and visibility of where its ads actually appear. In his valedictory Global Marketer Week, Keith Weed was in no mood to dodge the issues that matter. At Ebiquity, we've long advocated whitelists for brand-safe online properties, but Unilever Trusted Publishers represents a quantum leap forward in articulating the specific standards that brands should require publishers to meet.
Summing up
Now that marketing leaders have elevated the conversation, the real question remains how the industry will come together to solve some of these existential challenges practically. There's no "What?" (because these are the issues). There's no "Why?" (because it's the right thing to do). And there's no "When?" (because the moment is now). It's all about "How?"
• How should brands hold tech giants to account?
• How will they take on walled gardens and ask for cross-media measurement?
• How can we ensure advertising supports an open and inclusive internet?
• How do we regain consumer trust in advertising and brands?
After a super-stimulating week in Lisbon, my colleagues and I look forward to contributing answers to these questions over the course of the coming year. And we'll be doing the same as we work towards next year's WFA Global Marketer Week in Singapore, of course, which will no doubt build on this year's themes.
What the advertising world needs now are tangible, concrete solutions. That, and the spirit of adventure, similar to what drove Columbus and his crew from Lisbon all those years ago.