As featured in Xenoss, read the full article here.
Ebiquity's CPO, Ruben Schruers, spoke to Xenoss on best practice for AdTech vendors in helping advertisers filter Made For Advertising inventory, along with Digiday, Scope3 and Lumen.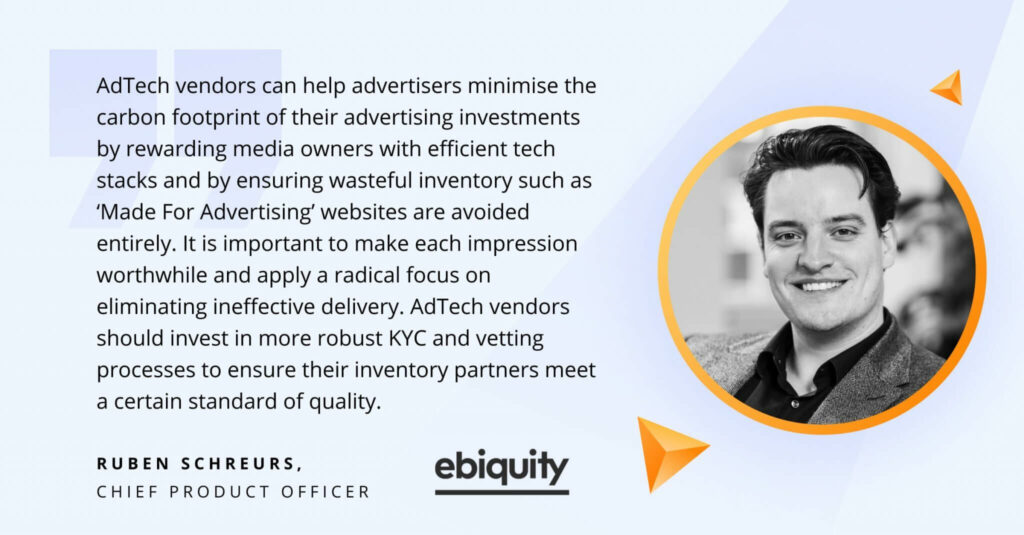 AdTech vendors can help advertisers minimise the carbon footprint of their advertising investments by rewarding media owners with efficient tech stacks and by ensuring wasteful inventory such as 'Made For Advertising websites are avoided entirely. It is important to make each impression worthwhile and apply a radical focus on eliminating ineffective delivery. AdTech vendors should invest in more robust KYC and vetting processes to ensure their inventory partners meet a certain standard of quality.
Ebiquity partnered with Scope3 publishing the 'Hidden Cost of Digital Advertising' report which revealed MFA platforms emit 52% more carbon than reliable publishers which could prove to be extremely problematic in the long run given the seemingly steady increase in share bid requests from MFA inventory.
'Made for Advertising' (MFA) websites are high contributors to carbon emissions while providing no value to brands. CO2PM on MFA' websites, classified as wastage by Ebiquity, is 26.4% HIGHER than non-MFA websites.
'Made for Advertising websites have no readership, publish-low quality content, and are created only to capture ad revenue' but have seen investments from our clients of around $115 million between January 2020 and May 2022.
The report exposes the extraordinary cost of excessive supply chain waste and its impact on the environment, analysing over $375 of digital spend across 116bn display ad impressions.
Reallocating investment to high quality journalism can boost ad effectiveness and lower emissions. CO2PM on 'Trusted News Websites' is 52% LOWER than on MFA websites, creating a strong case for brands to cease wasteful MFA spend.