Global advertising investment is set to grow by almost a third in the next three years, with almost all of the growth driven by increased digital ad spend. Meanwhile traditional media –  from TV to out-of-home – will remain more or less unchanged.
As a result, in that time digital will come to represent more than 70% of total global advertising investment. These are the conclusions of the latest ad spend forecasts released by eMarketer.[1]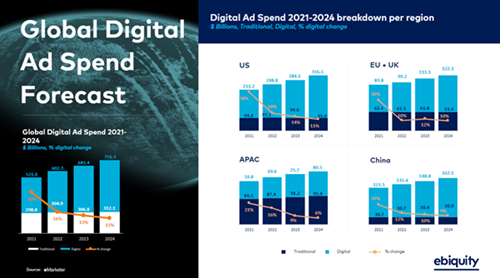 Following a calamitous 2020 and a year of deep cuts in the first year of COVID, ad spend enjoyed a bounce back in 2021. Even though many categories and economies were still operating in very abnormal circumstances last year, the pivot to digital and ecommerce made by many brands saw digital ad spend increase by 30% to US$521bn. The biggest bounce back effects were felt in Brazil (+56%), the world's largest advertising market the U.S. (+38% to US$211bn alone), and the U.K. (+36%).
Although growth will be more modest in the next three years – up 16% in 2022, 13% in 2023, and 11% in 2024 – these increases are in line with the pre-pandemic growth trajectory of digital advertising and will take total worldwide digital ad spend to US$757bn by 2024.
While in China, media ad spending growth rate has slowed to 9.2% due to regulatory constraints and hobbled economy (2022 Q1 GDP is 4.8%), it will still be the second-largest ad market in the world after the US, with spending of US$166.13 billion in 2022. Investment in traditional media will only experience modest 4% growth from 2021-2024, increasing from US$299bn to US$312bn. The projected changes are shown above.
The rise and rise of social
The pandemic years have shown many brands around the world quite how straightforward and effective it can be to switch investment to digital channels and drive growth there.
Not only have the dominant advertising channels and social media platforms owned by Alphabet and Meta – Google and YouTube, Facebook and Instagram – enjoyed strong growth in 2021, a trend that will continue in the years ahead. Other, smaller platforms have benefitted too, including both the more established, such as Pinterest and Snapchat, and newer routes to market, most notably TikTok. Byte Dance's Douyin (TikTok outside China) digital ad revenue has soared past Baidu and Tencent and will generate US$20 billion revenue in 2022, and will be second to Alibaba (US$36.23 billion).
Social media advertising has been particularly impactful for smaller, local businesses, as well as the growing army of direct-to-consumer or D2C brands. Sales here are more performance driven and distinctly different from the way that major brands have used traditional media historically to grow by brand building. Intriguingly, the tactics of smaller, local businesses and D2C brands are now also being adopted by established megabrands and market leaders.
Emerging markets power ahead 
From 2021-2024, digital ad spend in the U.S. is predicted to grow from US$211bn to $317bn, an increase of almost 50%, while in the U.K. it will rise from almost US$32bn to more than US$42bn (+33%). But the maturing emerging markets will see even greater increases, with digital ad spend in Brazil more than doubling from US$6.9bn to US$16.3bn, while traditional media there will enjoy a much more modest growth of 12% to US$6.7bn. In 2020, digital and traditional media spend were on parity in Brazil.
eMarketer's data suggest that digital ad spend in this market will be more than twice as big as traditional media by 2024, accounting for 71% of total ad spend. This is symptomatic of Brazil's rapid development as an advertising market, bringing the proportion of advertising dollars invested in digital in line with the global averages.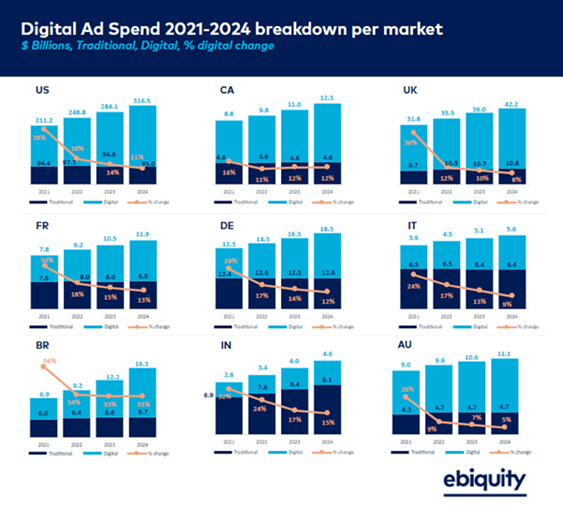 India, meanwhile, will see digital ad spend increase from US$2.8bn to US$4.6bn from 2021-2024, an impressive increase of 64%. Traditional media will also grow strongly in India, however, from US$6.9bn to US$9.1bn, up 32%.
Although that shows digital ad spend surging twice as fast as traditional media in India, the strong predicted performance for traditional media shows that it is far from reaching the saturation point in this market that TV, radio, cinema, print, and out-of-home are experiencing in most other markets around the world.
In digital, India is also a hotbed of innovation. Much of the growth predicted in this market is in the 'fast last mile' sector, food and grocery delivery. This reflects the growing pace of digital transformation in India's service and retail markets.
In summary
The post-pandemic bounce back in ad spend – particularly investment in digital, most notably social – has enabled the global advertising market to catch up on the chaotic lost year of 2020. The lessons of agility learned by brands big and small, selling both indirect and direct, mean that digital is increasingly dominating marketers' media plans. By 2024, digital will account for more than 70 in every 100 dollars spent on advertising for the first time. This is true for both the biggest, established markets, as well as the emerging powerhouses of the late 2020s and 2030s.
Any growth in a brand's digital ad spend needs to be closely monitored to ensure that it is being spent as efficiently as possible. Ebiquity's Digital Value Index is tailor made for this purpose, providing visibility of inefficient buying practices and market-based benchmarks to show what good looks like. Any brands interested in shining a light on their digital ad spend should contact Peter Hanford for more information.
[1] eMarketer, "Worldwide Ad Spending 2022", 18 May 2022 – https://www.emarketer.com/content/worldwide-ad-spending-2022