Ebiquity plc, a world leader in media investment analysis, has forecasted China media expenditure to grow at the rate of 5.2% in 2022, a drop from 7.5% in 2021. This media spend growth is consistent with the widely accepted GDP 2022 growth outlook of 5.6%. This will mean China will no longer hold the position of a global growth leader.
Ebiquity is also projecting media spend growth to slow to 4.4% in 2023 and 3.2% in 2024.
These findings were unveiled by Ebiquity China's Stewart Li, Managing Director; and Bob Du, Senior Director of Analytics, at a virtual China Forum hosted by the World Federation of Advertisers (WFA) on December 2, 2021
Stewart Li said: "The trends are somewhat expected. We attribute this media spend slowdown to factors like the deceleration in global growth and ongoing uncertainties in the Sino-American relationship. Furthermore, at a local level, there is increased scrutiny by advertisers on their media spend. Categories such as property, hotel and travel, education and retail have decreased media spend significantly since 2021. The silver lining is that this presents opportunities for advertisers to optimise their media costs and KPI commitments for the coming year."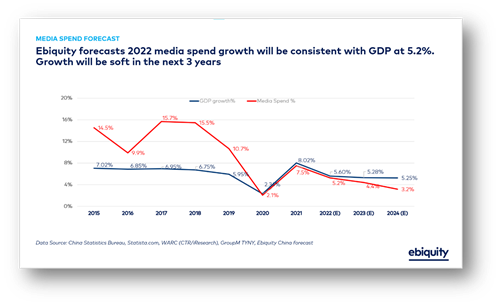 Media Buying Cost Inflation Rates Expected to Slow
As a result of the slowdown in economic activity, combined with a lack of new spending categories in 2022, Ebiquity forecasts a lower media buying cost inflation. China Digital Video and Digital Display annual actual media buying cost inflation uplift is forecasted to reduce to 5% (5.5% in 2021).  TV will also have a slower growth rate to 0.5% (1% in 2021).
The long-term actual media buying cost deflation in print advertising is projected to accelerate to -3.5%.  Radio and Out of Home (OOH) buying cost inflation will grow faster in 2022 at 4% and 5.5% respectively, as vendors have not adjusted their rates for some time.
Looking at the past six-years, Ebiquity saw moderate buying cost inflation in online and OOH media costs of between 2.8% to 5.8%. However, TV and Print saw comparatively little growth and are expected to potentially deflate in the future. Ebiquity also revealed that there is an increased use of brokers in China.  82% of TV spend was conducted via brokers and half of online spend was booked indirectly.
Over the past few years, online channels have secured an increasingly large share of the ad spend, primarily at the expense of Television. Television media spend dropped from 31% of the total media budget in 2015 to a projected 9% in 2021. The online medium has increased its share of ad spend from 46% in 2015 to a projected 80% in 2021.
Precision and performance buys have contributed to this trend as advertisers increasingly focus on driving measurable conversions and return on investment. This trend is expected to remain through to 2024.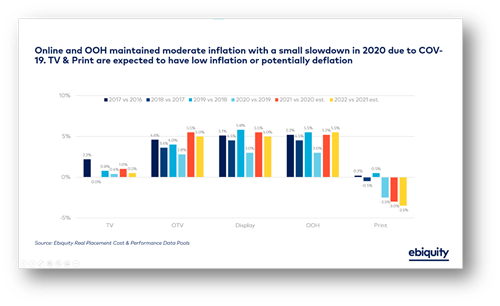 For more information, please contact Stewart Li, Managing Director of Ebiquity China, E: Stewart.li@ebiquity.com