In the time of a pandemic, social and political upheaval, and financial uncertainty, consumer expectations have shifted more rapidly than ever before – leading to a new era of corporate responsibility.
A recent study showed how 84% of consumers would be more likely to buy from a company that practices sustainable advertising  – pointing to a rapidly growing demand for accountability in corporate practices.​
As a result, advertisers need to put ESG issues in the front and centre of their strategy, not just to stay relevant, but also to avoid both financial and reputational damage.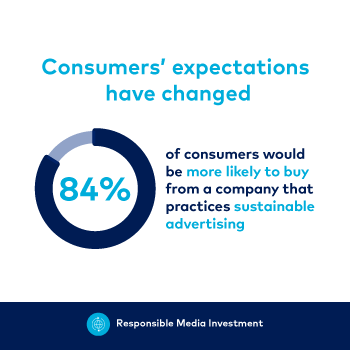 Market's changing expectations push ESG performance to the top of corporate agenda
In response, 60% of marketers said they are willing to downgrade or drop media partners that fail to meet their standards, even if they deliver on performance metrics. The results are incredible – 39% of marketers say they cut spending with a major platform in 2021, out of which 54% cited factors like misinformation and hate speech. So, how can advertisers join in and start driving responsible practices through their investments?
The answer should not come as a surprise – advertisers have to identify, collect, and match the right media investment and ESG datasets to inform decision making. However, the growing digital ecosystem complexities make collecting the right data a global challenge.
The complex media landscape makes it difficult for advertisers to take action
The key to implementing responsible practices in advertising is a clear overview of the digital supply chain, together with an outline of your vendors' compliance with your responsibility standards. However, the growing complexities of the digital media landscape are making it difficult for advertisers to open up their digital supply chain.
For example, in the UK alone, the average unique properties per advertiser is over 200,000. These are bought through more than 200 ad exchanges, and with over 3,000 unique corporations owning these properties. Looking at these staggering numbers, it comes as no surprise that many advertisers still struggle to include ethical, environmental, and community goals across their media investments.

Advertisers have to leverage data and tech to create reportability and power principle-driven growth
To enable responsible practices in their media buying, advertisers need to create visibility of their partners across the supply chain and match their media investment data to ESG sources. It is key to systematically analyse investments against a group of issues, like:
Disinformation
Environmental sustainability
Diversity and inclusion
Made for advertising websites
Privacy and data protection
This will unlock actionable insights across the media supply chain and help you drive responsible investing.
 Key steps advertisers can take right now
There are a few steps that advertisers can start doing now to tackle responsible media investments:
Create a clear overview of their supply partners and the entities where their investments end up at​
Map out the responsible practices that align with their business values and should be reflected in their media supply chain
Measure and quantify the ESG performance of their supply partners to inform decision making
Create responsible media baselines that enable them to set goals and track improvement
Reallocate spend to the partners that align with their values and stimulate responsible practices
Monitor ESG performance of their supply partners over time and hold them to account where needed
If you want to know more about what you can do to deliver principle-driven digital media investments, or are interested in the findings from the world's first global snapshot of responsible media practices, download our "Tackling Responsible Media" guide, or reach out to Francesca.Leronni@Ebiquity.com.